In this article, I have curated the list of best Chrome Extensions in 2022. Over 6800 words long!
Chrome Extensions are an integral part of the Google Chrome browser. These software and tools can enhance your browser to the next level by ignoring the need for extra software that you would have to use if web extensions did not exist. 
In other words, you do not have to minimize Chrome and open other apps or software if you use chrome extensions. For example, you might sometimes have to capture a part of the whole desktop screen/tab. You can just hit the screenshot extension that you have installed on your browser to take a screenshot, rather than launching any third-party software for the same task.
Therefore, I have listed the best chrome extensions you should try this year. I have tried my best to describe each one as much in the limited wording. Also, the extensions are categorized into different sections; so use the table of contents below to jump to a particular heading. I also recommend bookmarking this article if you do not have a moment to go through whole article at this point. 
Best Google Chrome Extensions 
Top Google extensions on the chrome web store. 
Password Alert is one of the best chrome extensions by Google for folks who are looking to secure themselves against phishing attacks. It alerts you upon any unusual activity with your Google account. Notably, it does not store your passwords of Google or non-Google services. For the extension to work, you must have Javascript enabled on the Chrome web browser. 
Google Translate chrome web extension is an easy tool to understand the meanings of languages on web pages. You can just hit the extension icon to translate any highlighted part or the entire page. It supports most of the notable languages. But note that perfect and exact translation is not always accurate. 
Save to Google Drive makes uploading web content, media, and screenshots exceedingly simple. All you have to do is select the piece of content or media you want to upload, click the right button, and select – Save to Google Drive. It also helps in converting Microsoft Office files and saving them to Google Docs format. 
I use Google Keep to take notes, save screenshots, and media. It syncs everything saved on multiple devices — Android, iOS, and Wear. You can easily organize notes by using labels and adding details. That is what I appreciate about this productivity tool. But, I also wish for more features such as the ability to sort lists alphabetically. 
This chrome extension is mainly for Hangout users. Using which gives you handy features such as group chatting, video calling, and chat syncing. Although, there are a few limitations such as you cannot send videos, you have to be logged into Gmail all the time to use this extension, and also it doesn't support 'invisible status'. But you should try it to see if it suits you. 
Picture-in-Picture is a chrome web extension to watch videos in a floating manner. For example, if you want to watch a YouTube video while working on another tab, this add-on is all you need. Here is the simple keyboard shortcut: Alt + P for Windows. 
High Contrast is like the dark mode but with a twist. It gives you the freedom to choose your preferred color scheme to make it lenient to read texts. For example, selecting 'inverted Color' converts black color into white or yellow or blue and white color into black. Other options include Grayscale, Increased Contrast, and Yellow on Black. 
Mindful Break is a must-have extension for geeks who spend much of their time in front of the computer. The short breathing exercises and tips refresh your mind and boost awareness for the next couple of hours. You can configure Mindful Break settings according to your needs, such as putting reminders after every period spent on the Chrome browser. 
Office Editing For Docs, Sheets & Slides is an offline chrome extension that helps you edit Microsoft Word, Excel, and Powerpoint files without Office installed on your PC. It opens Docx and other files in a new tab instead of downloading them locally. 
Google Similar Pages is good at finding similar articles that you are browsing at the moment. Best for students, teachers, and anyone trying to find as many similar articles for the research. All you have to do is click on the Similar Pages button, and it will start digging into the web, excavating similar web pages. 
Best Chrome Extensions For Students & Writers 
Top extensions for students and writers on the Chrome web store. 
Imagus is one of the best link hovering chrome web extensions to enlarge images and videos from links with a mouse hover. It helps you find large thumbnails dimensionally and see their full resolution without opening them in separate tabs. If you find any issues in playing videos and gifs in the Chrome browser, try hitting the spacebar, it will work. 
Grammarly is the absolute quality. Its little add-on can take your writing to the next lesson by crossing out grammatical errors and suggesting changes to your work based on your writing style. I have been using it since its rise on the web, and it has never left me in the lurch while editing my articles. Students and Writers should use it to enrich their essays and articles. 
Memorize helps you remember stuff that you find tedious to hoard in your brain. The working protocol is quite simple: you enter the questions and answers, set the interval, and click start. Until you answer every question correctly, it will keep asking for answers. However, you can close it if you want.
Selection Reader is a text-to-speech reader that students can use to read out texts on the screen. Unlike other TTS extensions, Selection Reader does not limit the number of words that can be read in one go. There is no permission required to use this extension. 
The official Google Dictionary chrome extension helps you discover the meaning of words you are not familiar with. There are many unknown words that you might have encountered in your daily life, and to fully understand the context and meaning, you should try Google Dictionary. 
Note: Grammarly Chrome extension also shows the definition of words upon double-clicking the term.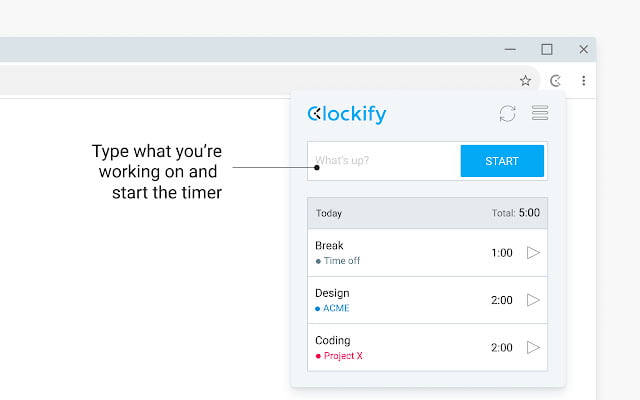 Clockify tracks your time spent on the web. With over 50+ web apps integration and periodic reminders, it can help you manage and analyze time daily. Furthermore, it is free for individuals and teams. It is also available for Android, iOS, and desktop, thus helping you sync tracked data. 
Power Thesaurus is one of the best chrome extensions for students and writers to discover synonyms and antonyms of the selected words. Although, you might have to type the term inside the add-on to get the synonyms and antonyms. But efficacious extension if you want me to say so. 
If you are using the Google Dictionary extension on your chrome browser, Flashcards might compound the progress of your vocabulary-building journey. With flashcards, you can review the words that you have saved while using Google Dictionary. It also works with the Google Translate extension. 
Visor comes under accessibility chrome extensions, and it helps you increase fluency, concentration and reduce eye strain while reading — by dimming the screen. If you work with long PDFs, this is what you need. Anyhow, you have to manually toggle the Visor extension every time to dim the screen. There is no hotkey. 
Kami is a PDF markup and document annotation extension for students, teachers, and online collaborators. Intuitive tools such as TTS, markups, equation editor, drawing, shapes, and comments help you improve classroom engagement and interaction. It easily integrates with Google Classroom, Schoology, and Canvas.
Mercury Reader extension reformats articles and web content. It removes cluttered ads and unnecessary objects from web pages, giving you a readable experience. It also allows you to save web pages to Amazon kindle. However, sometimes web images might turn a lot bigger, therefore, creating an inconsistent reading view. Yet, you might want to use Mercury Reader for news websites. 
You can have as many tabs open in your Chrome browser but managing them all at once is not an easy task. Session Buddy chrome web extension helps you list all tabs in one place. Not only does it help go to any tab with a blink of an eye, but you can also restore tabs for the next session. 
Block & Focus is an extension to increase your productivity. How? By blocking websites that you are addicted to and often visit while working or studying. It might be Facebook, Twitter, Instagram, or any other site. Head to the extension, list the websites you want to block. If needed, set a motivational quote. The statistics page shows the number of attempts you have tried to access the blacklisted site. 
Want to build a speed-reading habit? Use SwiftRead Chrome web extension. You can use it to quickly go through news articles, emails, and blog posts. It uses the Rapid Serial Visual Presentation, which eliminates the subvocalization of each word, and you tend to read more visually and rapidly over time.  
MyBib is a free citation generator in APA style, MLA format, APA 6, APA 7, AMA, and Harvard. If you are copying or mentioning someone's work, MyBib helps you cite it. Go to any webpage or even a PDF, and click MyBib extension to format the automatic citation. 
Dualless makes it possible to split your Chrome browser windows into two portions. It helps you manage two windows at once instead of going back and forth to each one. There are numerous splitting ratios available such as 3:7, 4:6, 5:5, 6:4, and 7:3. In the latest release, they have added vertical splitting as well. 
You might have visited sites that are difficult to read due to bad fonts. Alpha Text offers choices to format the article according to your needs to improve readability and reduce eye strain. You can adjust the font size, line spacing, automatic style adjustment on saved websites, modify site colors, and remove clutter. 
ProWritingAid is an alternative extension to Grammarly. The reason why I mentioned it here is due to its high rating. I guess fiction or nonfiction writers might enjoy using this extension. I do not want to compare it to Grammarly in general, but Grammarly fails to deliver story writers. Since I am a technical writer, I prefer Grammarly over ProWritingAid. 
LanguageTool is an alternative to both Grammarly and ProWritingAid. It checks and corrects most of the writing mistakes such as grammar and spelling. It supports more than 25 languages. If you use Google Docs, there is an addon to LanguageTool as well. But the extension works fine. Nonetheless, I found the premium version more helpful than the free version. 
Noisli produces background sounds to reduce disturbing noises. It helps to focus on work and relaxes your mind and body. You can play combos, set timers, and review the stats of completed sessions. Make sure you are connected to the internet while using Noisli. 
Best Chrome Extensions For Digital Marketers & Bloggers 
Chrome extensions to strengthen your marketing campaigns, do keyword research, and improve SEO. 
MozBar is a handy extension for digital marketers. It shows website metrics such as DA – Domain Authority, PA – Page Authority, Spam Score, link metrics, and much more. On-page highlighters help you distinguish links by type: No-followed, Followed, External, or Internal. With MozBar Premium, you can also check keyword difficulty, get suggestions for page optimization, and analyze the backlink data of any website. 
Digital marketers always need to mind how their computers are doing on social media platforms. BuzzSumo helps reveal the social engagement of any website. It also helps while searching for blog post ideas. You might be interested in top-performing content on the web that people do not mind sharing on social media and create a better version of it by yourself. 
If you are on the road to building your first website, you might stumble upon the font to choose for your site. The best thing you can do is to visit websites on the web and look over their fonts. Distinguishing similar fonts visually is not easy. But WhatFont is mastered in disclosing font types used in a webpage. It reveals font family, style, weight, size, line height, and color. 
If you are a blogger, perhaps you might be visiting hundreds of websites in a month for various reasons. HTTPS Everywhere Chrome extension makes sure every website you visit is HTTPS encrypted, not HTTP insecure. If you use it, it will protect you against surveillance and account hijacking. Nonetheless, if it breaks any site, disable it. To learn more about how to use HTTPS Everywhere, visit this guide.
I once said, "how someone can create such an outstanding website" after seeing a site. I wanted to know the framework they had used. I was curious. I used Wappalyzer, and it revealed their CMS type, marketing tools, analytics, CDN, and payment processors. In short, Wappalyzer helps you find out the web technologies used on websites. 
It is easy to send mass emails to hundreds of people. But, finding those emails is a bothersome task. Visiting contact pages of websites and locating email addresses is rough. I do not fancy doing such unproductive work. Instead, I use Hunter to find the contact information of any domain. It shows titles, social networks, and phone numbers to contact the admin. You should use Hunter too. 
Check My Links Chrome extension looks for broken links on the webpage. A broken link does not contribute to healthy SEO. Instead, Google might not appreciate sites with broken links. Web designers, developers, and site editors should use the Check My Links extension to find broken links in new or old content throughout their website. You can copy all bad links with a single tap. 
SEOquake is one of the best SEO Chrome extensions to measure site parameters, backlinks, display advertising, and website traffic analysis. If you have a SemRush account, connect it to SEO for more site-wide metrics and data. It also shows page info, where you will see the title, meta description, internal links, external links, and keyword density in the webpage. 
If you are using a free HubSpot account, connect HubSpot Sales to Gmail to unlock lead generation facets. You will get email tracking, CRM compatibility, email templates, a meeting scheduler, and more such features for free. It also syncs with Google calendar for more seamless scheduling. 
The name of Similar Sites is enough to determine how efficacious it can be. It helps you find similar or comparable sites that produce related content, and have the same niche. You can use this extension to discover shopping sites similar to that you are currently browsing, find competitors, conduct keyword research, and more. 
Ubersuggest shows search volume for Google & YouTube, SEO keyword difficulty, mobile & desktop traffic trends, searchers' age, top ranking keywords, and backlink profile. As a blogger, I use this free extension to do keyword research and get insights about my competitors. You do not need to create an account. No sign-in is required. 
Keywords Everywhere is an alternative to Ubersuggest, a freemium keyword research tool. It shows the search query data on more than 15 websites. For free users, it shows a trend chart, long-tail keywords, and keywords from 'people also search for'. But, paid users can see monthly search volume, CPC, competition, and trend data. Although solely for keyword research, you do not need Keywords Everywhere. Ubersuggest should suffice the need. 
Keyword Lookup Chrome web extension is another perfect alternative to Ubersuggest, but it only shows the monthly search volume of keywords, CPC (Cost per click), and Adword difficulties. Keywords Lookup is somewhat new and has less no of installs. But, it is highly rated as well. You can expect more updates in the coming years. 
Probably, before the launch of the Ubersuggest Chrome extension, Keyword Surfer was a most favorite extension for keyword research. It was free then. It is still free. In fact, very similar to Ubersuggest in terms of functionality. It shows search volume for the primary keyword, estimated traffic of a domain, word count for top-ranking pages, number of extract keywords on top-ranking pages, and much more. 
If you are an Amazon seller and want to do product listing the right way, use the Amazon Keyword Tool Chrome extension. It shows hundreds of auto-generated keywords to optimize and rank products. Why use it? Every buyer is different, so do search queries, and to generate more sales on Amazon, you need your products to rank higher than your competitor. How to use it? Just type in the keyword and select the marketplace. It will start displaying the top keywords. 
If you are an Ahrefs subscriber, you should not miss Ahrefs SEO Toolbar. You can have all of your basic marketing searches from Ahrefs SEO Toolbar. It shows the title, description, dofollow & nofollow links canonical URL, robots tags, headers, word count, and social tags as a part of on-page SEO metrics, which is free. You can even find broken links and export them. For premium users, it shows Domain Rating (DR), URL Rating (UR), number of ranking keywords, referring domains, backlinks, and much more. 
Bitly is one of the best URL shorteners to customize and shrink long links into shorter attractive looking links. If you do social media marketing, links are an internal part of your campaigns. You should make sure that you are using URL shorteners to increase click-through rates. How to use Bitly Chrome extension? Once you install it, connect the extension to the Bitly account. Afterward, go to any webpage and click the bitly extension icon. It will shrink the visited website address into a short bitly link. 
SEO Minion is a free SEO extension for the Chrome browser. It helps you with on-page SEO, link analysis, checking broken links, and hreflang. Marketers mostly use SEO Minion to analyze SERPs in different locations for the same keyword. You can even download URLs & data; organic, advert, video, image, and much more from Google SERP. 
Majestic Backlink Analyzer only does one thing: analyze backlink data of a webpage. The developers have mentioned it as free, but that is not true. You need a Majestic subscription to check backlinks, compare websites, find link opportunities, export backlink data, and share your campaigns. However, it does show Trust Flow scores, Citation Flow scores, External Backlinks, and Referring Domains for free. 
Nofollow Chrome extension helps you outline no-follow links, no-index meta tags, user-generated content (UGC), and sponsored attributes. It shows a red box around Nofollow links. Therefore, other links are do-follow. You may verify it through MozBar or Ahrefs. 
Alexa Traffic Rank shows Alexa.com traffic data of a website. The Lower the rank, the more popular a site is. Once you install the extension, it will show you the Alexa traffic rank amongst all websites. And the country rank in which the website's server is located. It also displays backlink data, similar sites, and average site load time. 
WebRank SEO is for digital marketers to do competitive and website analysis. If you use this tool, you do not need to install the Alexa Traffic Rank extension, as it gives it. You can also see domain information, server location, the IP address of the website, indexed pages, and backlink data from Google and Bing search. 
SEO Meta in 1 click is another tool to get metadata of a webpage. It shows the title, description, meta-robots, headers, number of images, open graph data, sitemap.xml. It also provides a list of external tools such as PageSpeed Insights, Facebook Debugger, Keyword Density, Microdata, and Rich Snippets Validator. 
This is not different. Probably similar to SEO Minion and SEOquake Chrome extensions. Mangools SEO Extension shows in-depth SEO data. You can check DA, PA, citation flow, trust flow, Alexa rank, and Facebook shares. Want to see what the current website already ranks for without visiting any keyword tool? It shows that too. Other features include a backlink checker, on-page SEO tool, keyword density checker, broken link checker, rank tracker, and much more. Mangools SEO extension is not free, but it gives a 10-day free trial without any credit card. 
Impactana Content Marketing Toolbar is one of the best Chrome extensions to measure the social metrics of websites. Buzz metrics show Facebook shares, Google+ (expired feature), LinkedIn shares, Pinterest shares, and the number of Tweets for every article. Whereas, Impact metrics measure real user engagement through comments, views, clicks, and downloads. It seamlessly integrates with Buffer, HubSpot, and Pocket. 
Best Chrome Extensions For Developers
Here is a painstakingly curated list of Chrome web extensions for developers. Take your productivity to the next level with these Chrome browser extensions.
daily.dev is one of the best programming news Chrome extensions for developers. It is open-source, so no need to sign up. It fetches the best articles from more than 350 web publications. Also, the active dev community is an absolute gem and a time saver. 
Looking for a Chrome extension to test your APIs? Firecamp helps you test out APIs of your choices, WebSocket, HTTP, and GraphQL collaboratively within a single app across your team. It is easy to use, developer-friendly, a perfect package of socket io, API, and GraphQL testing.
Web Developer Chrome browser extension is in one toolkit that any web developer would desire to have. So what does it do? It has assembled a vast range of tools into categories, and each category includes various tools to use on any webpage. For example, it can outline all images on a web page, disable all CSS styles, delete domain cookies, and much more. 
React Developer Tools from Facebook offers React JavaScript library and the ability to inspect the React component hierarchies. You can select and inspect components in the tree, see rendered components, and subcomponents. 
Dimensions is a dimension checker extension through the mouse point. If you want to measure the distance between elements on a webpage, this extension is all you need. You have to point the mouse from one element to another (up or down/left or right), and it will show you the length. 
Windows Resizer developer Chrome extension helps you resize your browser screen to various screen resolutions. What is so special? It assists web developers and designers to test layouts for various screen sizes. If you use more than one computer for your projects, Global Key Shortcuts can export and import your current settings to another device.
CSS Peeper is one of the best Chrome extensions for web developers to extract more design and focus less on digging codes. It is intuitive to use. So easy to find an element and its styles on a page than it is with the built-in 'inspect element tool in Chrome browser. CSS Developers who are invariably curious about web designs should use this extension. 
Stylus offers functionality to install and write themes. It is an open-source community-driven extension that makes it much better than its counterparts. Using Stylus, you can install themes from popular repositories, backup your installed styles, and much more. Watch the above video to learn more about Stylus.
Talent API Tester is a handy tool for developers who invariably need to work with APIs. It helps test HTTP and REST APIs with its intuitive user interface. It saves the history of requests and responses once you clear them. Since it is on the Chrome browser, you do not need another tool to test REST API methods. 
Here is another CSS-related Chrome extension recognized by the name of Amino. It helps to make visual changes to any website with live CSS editing. It can highlight syntax, autosaves live editing, work on multiple desktops with syncing, export data, polish off modern IDE features, and much more. 
Octotree makes it easy for GitHub users to review code and intuitively explore Github. Using it would make you say – This should be the standard version of Github. Why is it so? Due to features such as IDE-like code tree, dark mode, private repositories, code themes, multiple tabs, code font settings, sidebar docking, and much more. 
If you are a graphic or web designer, there is no reason why you should not be using ColorZilla for your projects to make workflow streamline. It reads or samples colors from one point of a website and pastes it to another. Here are some of its features: eyedropper, advanced color picker, CSS gradient generator, flash object colors, and color palette for any site. 
This tool is primarily for Google Analytics users. Google developed the Tag Assistant Chrome extension, and it helps in troubleshooting the installation of Google tags. Tag Assistant verifies if tags are correctly installed and report upon errors. It works with Google Analytics, Google Tag Manager, AdWords Conversion Tracking, and more. 
Web application developers should look into the Lighthouse Chrome extension for the improvement of their web apps. It runs a test & shows how a page performs and how to improve it by eliminating the errors. Developers highly recommended it for developing Progressive Web Apps. 
BlazeMeter debugs and automatically creates Selenium and JMeter scripts, eliminating script-building effort. Developers use it to record HTTP and Selenium traffic to generate load and functional tests. The UI is simple and easy to use, and that makes it a handy Chrome extension. 
Best VPN Chrome Extensions 
These are some of the highly-rated VPN Chrome web extensions to hide IP addresses, protect privacy, and remain secure.  
Touch VPN is one of my favorite Chrome extensions to stay out of bad guys or anyone who tries to invade my online privacy. It provides unlimited bandwidth for free. If you are not using private browsing apps, perhaps using Touch VPN is a great decision. Not to mention, but it also helps in unblocking blocked contents. 
Hola Free VPN is a VPN Chrome extension that uses split-tunneling technology to keep you safe from internet trackers. It is free and does not show ads. You can watch and access sites blocked in your country. However, the location choices are less as compared to Touch VPN. 
Despite my appreciation for Touch VPN, I mostly use Windscribe because it offers lots of location choices and does not disconnect on its own. It has integrated features such as an ad blocker, tracker eradicator, malware evader, cookie monster, and more to provide full anonymity to its users. 
TunnelBear VPN Chrome extension has been installed over a million times. It keeps you safe from online trackers, get around blocked websites, secures browser data on public Wi-Fi networks, and block advertisement & its trackers. Although, the free memory limit annoys some users. Currently, the limit is 250 MB without sign-up, and 750 MB with a verified email address. 
The most crucial step to secure online browsing on a public network is to use a virtual private network. And SaferVPN delivers it with its superior service. It uses 256-bit encryption, offers unlimited location switching, and gives way to 1300+ high-speed servers for its subscribers. Yes! It is not free but being a paid member is worthwhile. 
Astar VPN Chrome extension is one of those free VPN tools available on the Chrome Web Store. It is super intuitive and a one-tap connection kind of stuff. Just install it on your browser, select location, and connect to a virtual private network real fast. 
1clickVPN Chrome web extension is a close alternative to the Astar VPN extension. It is free, takes one tap to connect to a virtual private network, and offers as many locations as Astar VPN does. Furthermore, if you are wondering, there is no bandwidth limit. 
ExpressVPN is one of the best paid VPN Chrome extensions to spoof your whereabouts. It does not let any website or tracker get your IP address and blocks them from accessing your location. It forces and automatically connects to the HTTPS version of websites. Subscribers can connect to 3000+ VPN servers in 180 locations in 94 countries. 
Hotspot Shield extension is a freemium security tool. It uses WebRTC technologies to hide your IP and uses military-grade encryption to protect your data. Yes! it offers both free and paid plans, but as free, it only connects to one location and provides primary security. But premium subscription plans come with a 45-day money-back guarantee. However, for beginners, the free version should suffice their needs.  
VeePN is another freemium VPN extension for Chrome web browser users. Just like a few of its counterparts that I have already mentioned, it does not limit bandwidth. It means you can use the extension as much you desire. It provides access to blocked websites and services without compromising your location and privacy. 
Best Chrome Extensions To Capture & Record Screen 
These are the best screen capturing or recording Chrome web extensions.  
Evernote Web Clipper is my favorite Chrome extension to capture and annotate the screen. I primarily use it to take screenshots for my blog posts. You can clip whole pages or just parts you want to remember. The clipped content is always available on Evernote. Apart from Google Chrome, it is also available for Web, Android, iOS, Windows, and Mac.  
OneNote Web Clipper is a close alternative to Evernote Web Clipper. Windows users must be familiar with this productivity tool. Yes! It does allow screen capturing. To capture a screen, click on the OneNote web extension icon, and choose whether to take a full-page screenshot or select a region. Consequently, click on Clip to save the media on your Evernote account.  
Awesome Screenshot & Screen Recorder is a full-packed screen capturing and recording tool available on the Chrome web store. For the folks who are looking to make YouTube tutorial videos, this is your extension. Although, there is a 5 min recording limit in the free version. To unlock the more annotating and recording features paid plans are worth going for.  
ScreenShot Capture & Editor Tool snappily capture webpage. Unlike Evernote and OneNote extensions, it works offline. You can take a full-page screenshot, annotate it with various shapes, pointers, notes, and arrows, and directly save it to your computer. No login or registration is required.   
There are not many highly rated screen recording extensions on Chrome Web Store. Screencastify is an exception. With over a million installs. it is one of the best tools to record Chrome window screens. You can record desktop, browser tab, or webcam capture in HD for up to 5 minutes for free. Afterward, the editing part comes where you can do the magic. Once the video is ready, export directly to YouTube, autosave to Google Drive, share to Google Classroom, or save locally.  
Screencastify is not the only exception to inadequate video editor extensions on Chrome Web Store. Hippo Video screen recorder and video editor is another exception. With over 100K installs, this is another excellent tool to record window tabs, an alternative to Screencastify. The recording features are fantastic, and the video editor is powerful enough to make a quality video to satisfy the YouTube audience.  
I could not end this list of screen capturing or recording extensions without mentioning Nimbus Screenshot & Screen Video Editor. It would not be fair not to include this great tool. It is one of the highest-rated Chrome extensions that you see on the Chrome Web Store. The number of installs whispers it. It is similar to Awesome screenshot & Screen Recorder, very much the same in features: capturing, annotating, recording, editing, and exploring.  
Other Chrome Extensions
Here is the list of Chrome web extensions that I forget to mention or those that do not belong to the above-listed categories. 
We Heart is an official Chrome extension of We Heart It, an image-based social media site. It allows you to save web images and personal canvas to We Heart collections.  
Office from Microsoft is a productivity Chrome extension. You can view, edit, and create office documents in your browser. It has integrated with OneDrive making the documents easy to work with.
GIPHY is one of the best sites to share and download GIFs. Now, acquired by Facebook. It lets you search for GIFs directly from your Chrome Browser. You can drag and drop GIFs wherever you want to share them. 
Tracking Time is a productivity Chrome extension to track the duration of time you spent on more than 35 productivity tools such as Trello, RTM, and Google Docs. For example, you could use it to track the period spent on client projects to charge clients accurately.  
Amazon Assistant for Chrome is an official web extension from Amazon. What does it do? It helps in discovering new products and comparing Amazon pricing details of products while shopping on different sites. It also notifies you of the latest deals on Amazon products. 
Keepa is a money-saving tool for Amazon shoppers. This Chrome extension tracks product prices on Amazon sites. In simple words, it helps you know the right moment to purchase something on Amazon; when prices fall. Amazon invariably changes the prices of products, and this extension saves your cash. 
Coupons are another way to cut down product prices. Honey Chrome browser extension automatically finds and applies coupon codes when you shop for online products. Honey Gold (rewards) can redeem for gift cards. It also notifies of the price drop of products if you put them in the Honey Droplist. 
Rakuten (formerly Ebates) is a coupon Chrome extension that applies coupon codes for online shopping. Thus, helping you save money. It makes sure you always get the lowest price. This money-saving extension compares cashback rates right on the result page. 
Do you know you can increase your computer volume upto 600% merely using the Volume Master Chrome browser extension? Yes! It can turn your quiet Netflix show into a loud DJ (just kidding). People having output sound issues on their computers should check out this extension.  
Feedly Mini is one of the best productivity Chrome extensions. What does it do? It adds content to your Feedly account while browsing. Feedly is a news aggregator that compiles various news feeds of online publications. Feedly Mini helps you add the content to your Feedly feeds. 
Dark Mode Chrome extension brings darkness to your Chrome windows and on web pages. In simple words, it turns the screen to dark at night time. Want to enjoy dark mode on Google Chrome? Install and click on the Dark Mode icon that works as an ON or OFF toggle.  
Want to watch your favorite Netflix movie with your best friend? Who lives seven oceans away from you? Install Teleparty on your Chrome browser, start watching the movie, tap the Teleparty extension icon, get and share the link with your friend. Eureka! Now watch the film together. It works with Netflix, HBO, Hulu, and Disney+ Hotstar.  
Zoom Scheduler helps you schedule Zoom meetings from Google Calendar. However, it is just for general Chrome use means it schedules meetings and starts the conference. It does not notify you before the meeting time. For that, you have to set settings in Google Calendar.  
podStation is an intuitive podcast player Chrome browser extension. It works as a simple RSS podcast aggregator. It supports global media, gives you control over playback speed, searches for podcasts, and automatically detects feeds from web pages.  
Do you know Taiwan is one of those countries with the fastest average internet speed? Yes! it is 85.02 Mbps. How can you measure what is yours? Try Speedtest by Ookla extension. It accurately tests your Internet speed; ping, download, and upload speed can get in seconds.  
Todoist is an addition to all productivity extensions I have mentioned so far. It organizes and plans daily tasks. It is also available for smartphones means there is no excuse not to use Todoist for productivity. Such an intuitively easy setup tool. 
GMass is my favorite tool to send, schedule, and track mass emails sent with my Gmail account. It allows me to send a follow-up if there is no email opening from the other side. It seamlessly merges with Gmail and tracks opens and clicks. I have had a good experience with the support team as well. You must try it! 
If you are a Line user, and wondering how to integrate instant messaging functionality to communicate to your Line contacts, then this is your tool. Line Chrome extension lets you send free memos, messages, and media. An alternative way to use Line without downloading the Line PC software.  
Bitmoji nerds must use the Bitmoji web extension to send or insert Bitmoji stickers anywhere on the web. Stickers are a great way to convey your feelings without writing a word. And the extension gives you more than 1000 expressions to express them.  
vidlQ Vision is a YouTube-certified Chrome web extenstion. This YouTube SEO tool helps you optimize your YouTube videos for more views and build an audience fast. You can do keyword research, analyze the performance of your videos, get insights on your competitors, and more.  
TubeBuddy is another browser extension that YouTube creators love and recommend. This SEO tool lets you A/B test YouTube thumbnails to experiment that getting more clicks to a video. It processes changes in bulk that save you time and increase productivity. Grow your YouTube channel with TubeBuddy.  
Pinterest Save Button saves web images directly to your Pinterest account. That saves a lot of manual tasks if you collect a lot of pins for Pinterest boards. To save a pin, go to any webpage with images. Click on the Pinterest Save Button icon, and select images you want to add.  
Want to change your mouse cursor to something better? Use the Custom Cursor web extension specifically developed for Chrome users. Either select from pre-made cursors or upload your own. However, it does not work on store pages and the homepage of the Chrome browser.  
coffeelings work like a mini journal. Whatever and whenever you feel, write, or quickly shorthand it using your keyword. It is a minimal and aesthetically pleasing extension to help you get through your days. You can save entries locally, and it works offline.  
Wrapping It Up: So these are the best Chrome extensions that I have found interesting and helpful. I have tried most of these extensions throughout using the Chrome browser. I hope I have saved your time which you would have spent searching Chrome Web Store.
You can help me make this article better. Let me know if there is any typo or information that needs to be corrected or any extension you suggest to include in this article. I have tried my best to make this piece of content error-free. Ah! Waiting for comments!
Was this article helpful?