In this article, I have curated the list of top Android Emulators for Windows and Mac.
Android Emulators are what you've been looking for? Well, that's what I'm going to discuss in this post. Emulators are being used for quite a long time by millions of users. So tell me, who you are? A gamer or a developer?
I've seen many gamers using android emulators to play android games. I have seen talented developers as well. But gamers are really fond of playing games using the mouse and keyboard. 
That's why most of them use android emulators to satisfy their desires. Maybe you don't know much about the developers who use them to test their smartphones' applications. Well, one must know how their application will look on Android, Isn't it? 
Related: 8 Best Live Game Streaming Apps for Android in 2022
Top Android Emulators for PC (Windows & Mac)
You don't want to pick that one that would drain all batteries in the first hour of usage. So let's pick the best one for you. 
1. GameLoop 
Ever heard of Tencent Gaming Buddy, now it is known by the name of GameLoop. Game Loop is an amazing android emulator for gamers, there's no doubt that most PUBG players recommend the emulator for a smooth gaming experience. The good news is now they support Call of Duty Mobile as well.
Additionally, Free Fire can also be played without much lag. GameLoop supports a bunch of other games by Tencent. Nothing much you can expect! But what else a PUBG player wants other than a perfect android emulator other than GameLoop. 
Price: Free 
Download GameLoop
2. Bluestacks 
Bluestacks is one of the best android emulators appreciated by many android gamers. Its compatibility with tons of android games is what gamers are usually talking about. 
Inside Bluestacks, you have an option to download games directly from Play Store or use Bluestack's very own optimized app feature. Expectedly, you will also get a regular software update from Bluestacks. You might not want to use Bluestacks if your PC's performance is not so great.
Price: Free | Premium $24 
Download Bluestacks
3. NoxPlayer 
NoxPlayer is a powerful android gaming emulator with Android 7 functionality. Users can assign a keyboard and mouse to play android games with simple keyword mapping. 
Just like other top emulators, you can assign CPU and RAM usage in settings for smoother gameplay. Its multiple instances feature lets you run more games at a time without much load on the system. The simpler, the better! 
Price: Free 
Download NoxPlayer
4. MEmu 
MEmu is another high-rated android emulator to play android games at higher frame rates. Improved OpenGL, DirectX 3D rendering effects, AMD, and Nvidia chips give more extraordinary images on larger screens.
Excellent mouse & keyboard controls with built-in key mappings, simple and convenient. You can run multiple accounts for the same game or play multiple games on different instances simultaneously. 
Price: Free  
Download MEmu
You may also like: 112 Best Chrome Extensions in 2022
5. KOPlayer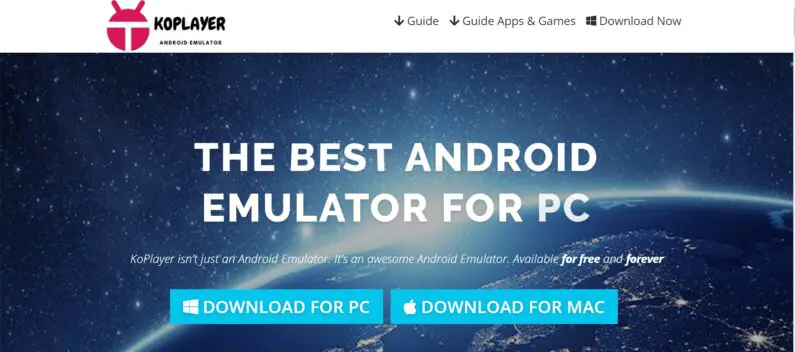 KOPlayer is another free android gaming emulator to play games without a considerable amount of lag. You can install and play any game available on Google Play Store, a manual drag-drop install feature is also available.
Moreover, it also lets you record favorite gaming moments through its built-in screen recorder. You may find a few ads while running the software, but they won't bother you much. 
Price: Free 
Download KOPlayer
6. LD Player
LD Player is an emulator that supports 2 million mobile games on PC. Play games on powerful android versions, both 5.1 and 7.1. Google Play Store is pre-installed. You can create custom keyboard maps for your ease.
While this feature is not new, you can find this on other gaming emulators as well. The best thing is LD Player is more optimized to run games according to your PC requirements. LD Player usually provides updates in a month or two to avoid bugs. 
Price: Free 
Download LD Player
7. Genymotion 
Genymotion is the android emulator developed only for developers. You can run various devices with different android versions. Switching between virtual devices is quite easy. 
It is ADB compatible and users can use various test automation tools. It also supports android studio, as well as other operating systems such as Mac and Linux. 
Price: Free | Paid Options 
Download Genymotion
8. Phoenix OS 
Phoenix OS is the latest android emulator for PC gamers. It also has a desktop-like experience, however, so it works very well for productivity. 
It has Google Play Store even though it can be a little difficult to work with it. Phoenix OS runs Android 7.1, which for an Android emulator is relatively new. It is not suited for hardcore gaming but still, users may use it on low-end devices. 
Price: Free 
Download Phoenix OS
9. Prime OS
Prime OS is a perfect alternative to gaming emulators for PC. You can run other non-gaming Android apps and can use Prime OS for productivity if you want to. 
Along with playing games, it also delivers a real android feeling while using it on a PC. It has an Android×86 based operating system for PCs, along with an amazing DecaPro tool with keyboard mapping functionality. 
Price: Free
Download Prime OS
10. Android Studio 
Android Studio is a development IDE (Integrated development environment) from Google. It is specially made for the development of softwares and android apps. Like other emulators, this is only for app making, thus, you cannot play games. 
It comes with a bunch of testing tools such as a built-in android emulator. You can use various devices based on different android versions. Such as you can use Google Pixel, Google Pixel XL, etc.
Price: Free 
Download Android Studio
11. Andy
Andy, a PC emulator for Windows, has been around for some time. The program is stable and has no major bugs. There have been several minor updates since it was released.
For those who do not want to use Bluestacks or some other Android emulator, Andy is the perfect alternative. It can run all of the popular apps available in the Google Play store.
Furthermore, this Android emulator has been coded to support both Windows and Mac operating systems. With Andy, you can grant a program root access without any special permissions.
Price: Free | Paid
Download Andy
12. Droid4X
The Droid4X emulator has some notable flaws, though it is designed to be a user-friendly gaming platform. However, the app's focus on Android games ensures that it works well in any situation.
It is primarily intended for the playing of Android games but can be used to perform productivity tasks as well. As Droid4X is a good emulator, it runs a variety of game libraries smoothly.
Price: Free
Download Droid4X
13. Remix OS Player
The Remix OS Player is a very straightforward way to run Android apps on your PC. Downloading and setting up the software only takes a few minutes. 
It is a reliable Android emulator that is easy to use. It's great for anyone who wants to test out Android apps without buying a phone that runs the operating system. It supports AMD CPUs as well. 
Price: Free
Download Remix OS Player
14. AMIDuOS
The next Android emulator in the list is known by the name AMIDuOS. The first thing you need to know about this emulator is that it has both a free trial version and two paid versions. One of the paid versions is Jelly Bean, and the other one is Lollipop
You'll incur one-time setup fees for installing AMIDuOS, but after that, you can use its features without any additional charges. 
It's very easy to use – once you set it up, you won't have any trouble. Most of the features on AMIDuOS are geared toward helping you get things done faster and more efficiently.
Price: Free Trial | Paid 
Download AMIDuOS
15. Xamarin
Xamarin is more of an integrated development environment (IDE) than an emulator. You can think of Xamarin as being similar to Android Studio, but there are some differences. For example, Xamarin has different features from Android Studio.
Xamarin provides excellent developer options, but to get them, you'll have to set up Xamarin that way. It's not difficult for developers, but newcomers (if you are) might have a hard time with it. You can give it a try and decide for yourself. 
Price: Xamarin
Download Xamarin
16. Windroy
Windroy is an Android emulator that lets you run almost every major Android application, including several of the latest apps. 
It is not well-suited for gaming and maybe unstable on older machines. However, if you are looking to get better productivity out of your aging hardware and workload, Windroy is a great choice.
Price: Free
Download Windroy
Conclusion: So, these are some of the best android emulators for Windows and Mac. Most of the android emulators are used for gaming purposes. Well, that's obvious too – the world has more gamers than developers. Don't forget to optimize the setting according to your PC's requirements after installing. Most of them are free, but you'll find some ads while using in few. I'll update this post if I find something fitting to add. Also, if you want to share your view regarding this article, comment below.
Useful Resources: Android App Developer Jobs
Was this article helpful?