Need to send a gift card but don't know how to do it? Don't worry, you're not alone! 
In this post, we'll teach you the steps needed to add a gift card to Venmo – one of the most popular payment platforms out there. 
From finding the zip code for your gift card to payment options for recipients, we've got you covered! So keep reading and learn how to add a gift card to Venmo in no time!
How to Add Gift card to Venmo 
Are you looking for a way to gift someone a gift card without having to go through the hassle of wrapping it up? 
A gift card is a prepaid card that may or may not be linked to a bank account and that can be used only one time.
Venmo has you covered! Venmo allows you to easily add a gift card to your transactions. 
Venmo allows users to link credit, debit cards, and prepaid and network branded cards (e.g., American Express, Discover, MasterCard, and Visa) in their name as a payment method.
Some gift cards may restrict their use to specific merchants. Other gift cards do not support the ability to be added to Venmo as a payment option.
Follow the steps to add gift card to Venmo
1. Open the Venmo app and tap on the Me tab. Then tap on the name or initials of the person you want to pay.
2. Go to Settings.
3. Select  "Payment Methods".
4. Select "Add a Bank or Card".
5. Select "Card". And enter the gift card details, including a 16-digit number and expiration date.
Also see: Venmo Instant Transfer Fee Calculator
Finding Zip Code for your Visa Gift Cards to add to Venmo
Adding a gift card to Venmo can be a pain in the neck, but not with this guide! 
When you add a gift card on Venmo, you will be asked to provide the Zip Code of the Card. 
This information can be found on the back of your gift card along with a website link or phone number for any balance inquiries and transactions.
Once you enter your details, you should see a section that allows you to update your address details including the Zip Code.
Gift cards sometimes don't allow you to update your Zip Code. In those cases, a simple solution is to use the gift card associated with your address.
It's a good idea to register your gift card with the website before using it. This will ensure that you don't miss out on any promotional deals or discounts.
Once you have the zip code, it's time to get to business. 
Can I Use a Visa Gift Card for Venmo?
You can add a VISA gift card to your Venmo account and use it for in-store and online purchases. 
When you scan your VISA gift card at checkout, you can pay for items without having to hand over your card.
Adding a gift card to your Venmo account is a great way to give and receive money easily. Whether you're sending money to a loved one or need to pay a bill, gift card payments are a great option. 
There are a few steps involved in adding a gift card, but they're easy to follow. First, find the gift card you want to add to your account. 
Then, follow the on-screen prompts to complete the process. Once added, the gift card will be available for use in future transactions – including payment of future bills! 
Can you Put Venmo Money on a Visa Gift Card?
You can use your Venmo balance to buy gift cards at many retailers. Most of these retailers accept Venmo payments.
But if you buy a gift card with a credit card and don't pay your balance off on time, you'll wind up owing interest on your revolving credit line each month.
If you're using a Visa gift card with Venmo, then you won't need to worry about any extra steps. There are no fees associated with Venmo and Visa gift cards because they're treated like debit cards.
Adding a gift card to your Venmo account is a great way to pay friends and family, but it can be a bit of a hassle to send money that way. 
Luckily, Venmo has made the process a bit easier by allowing you to add a Visa gift card to your account. 
The good news is that this method is more flexible than adding cash or check. You can use the card to purchase goods and services anywhere in the US, as long as the card issuer allows this. 
Additionally, gift cards can be used in place of cash or checks when making online payments. 
Also see:
How to Add a Visa Gift Card to Venmo?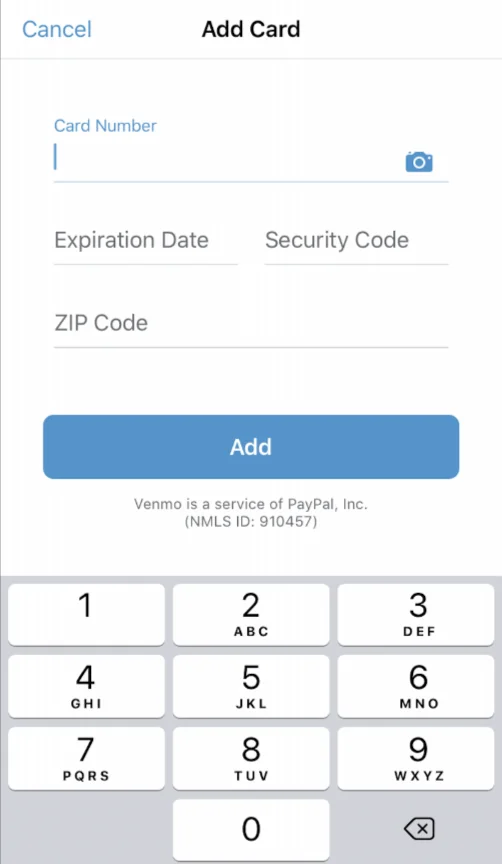 1. Open Venmo. 
2. Go to "Settings."
3. In the "Settings" menu, tap the "Preferences" option.
4. Select "Payment Methods."
5. Go to "Add a Bank or Card."
6. Choose the "Card" option.
7. Enter your gift card information. (You can also add a picture of the card by clicking the camera button.)
If the card isn't officially registered to any address, you might need to enter your zip code. (read above) 
Click the "Add Card" button, and wait for the card's balance to be added.
Venmo is a great way to send and receive money, but it can be difficult to add a gift card. That's where the app comes in! The app is easier to use than the online method, but both work in a similar way. 
First, you will need to enter the gift card's code. After that, you will need to confirm the gift card's balance. 
Once all of the details are in, you are ready to send and receive money! If you're looking to add a gift card to Venmo in a more streamlined way, the online method is the way to go. 
This method is easier than the app, but both methods work similarly. Once you have added the gift card, you will need to enter the Zip code that was provided by the store owner when buying the gift card. That's it! The gift card is ready to be used on Venmo.
Can I Pay others With Venmo Gift card Balance?
You can pay others with your Venmo balance if the amount you want to give isn't greater than the balance on your Gift card. 
For example, if you transfer $500 from your Venmo balance but you have only $150 in cash app gift cards, the remaining $350 will be transferred from your bank account or credit card.
There's no need to shell out cash when gift card season comes around – you can easily pay others with a Venmo gift card balance. 
All you need to do is have the gift card in your account, and send or receive it as you would any other payment method. 
The recipient will see the balance on their Venmo account as if it were a regular money transfer. 
Conclusion
Adding a gift card to Venmo is a great way to give the gift of convenience and fun. 
By following the simple steps outlined in this post, you can add any gift card to Venmo – Visa, Mastercard, and other gift cards. 
Additionally, you can use a visa gift card for Venmo transactions, pay others with your Venmo balance, and more. Don't wait any longer – start adding gift cards to your Venmo account today!
Was this article helpful?